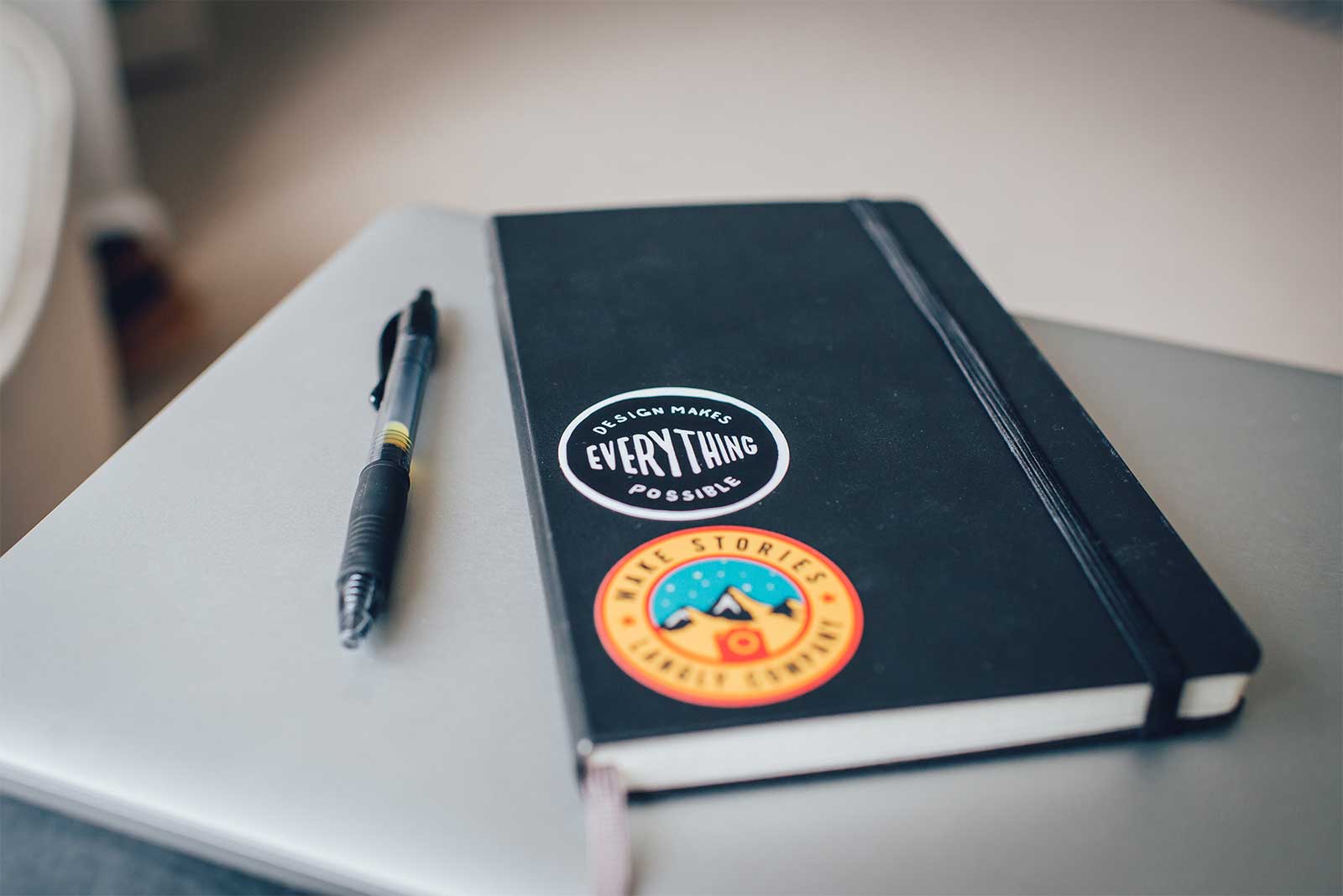 15 Sep
Fashion Trends 2022: the recovery is there but some technologies will be a must-have
---
Fashion Trends 2022 told by McKinsey analysts, who strongly advise all fashion operators to double their investments in the most innovative technologies by 2030. The goal? Creating a competitive advantage and keeping up with the digital natives who, from now on to the next few years, will affect the ways and times of development as previous generations have never done.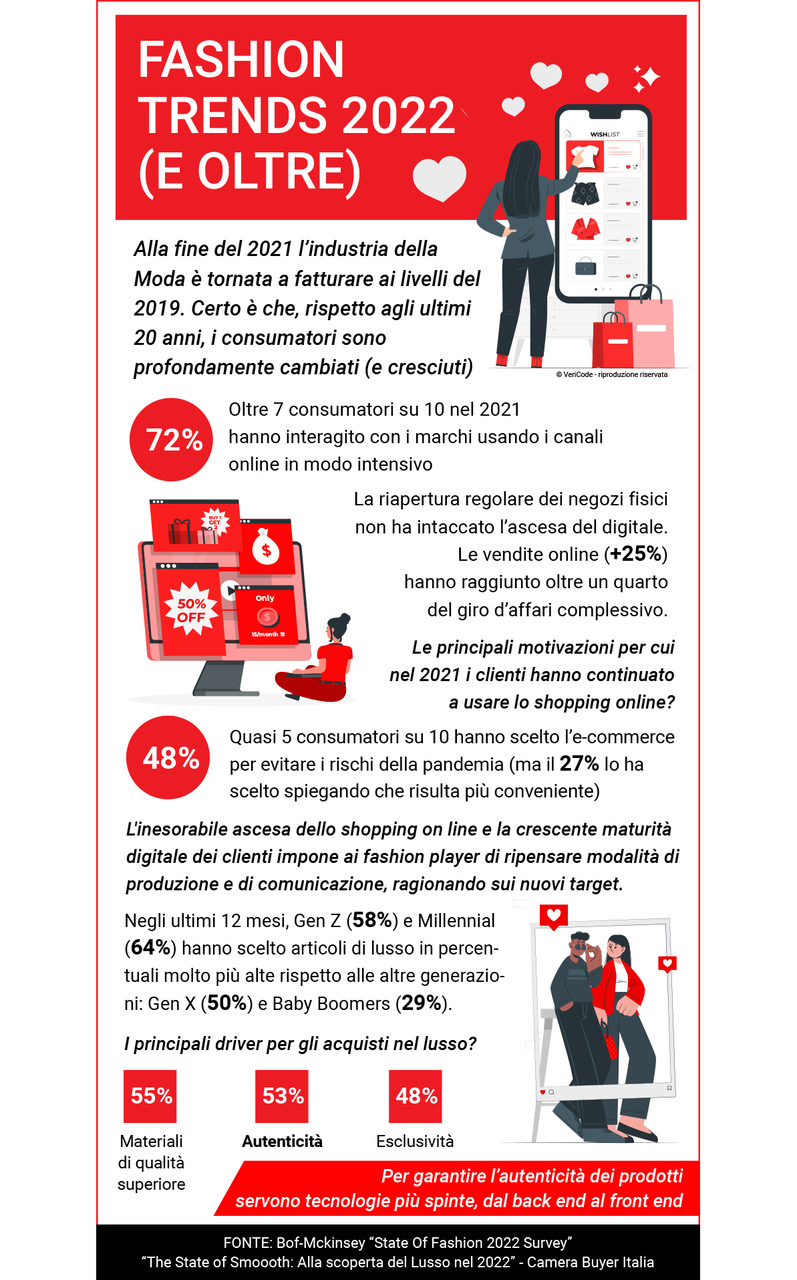 Find out what Vericode can do for you!
In recent years, fashion brands have faced an unexpected transformation of their customers, increasingly open to using digital channels to get information and relate to their favorite brands. Not surprisingly, the ability to better manage the customer experience has become the biggest competitive advantage and the main differentiator in maintaining trust and loyalty. Because, without loyalty, there is no business that holds up.
Fashion starts to grow again. With ifs and buts
The good news is that over the past three years the fashion industry has shown greater resilience and an ability to tackle challenges faster than observers predicted. Only 7% of companies have completely left the market due to financial difficulties or because they were bought by competitors. In 2022, analysts point to a general recovery, although quite different from country to country. In the report "The State of Fashion 2022 Survey", McKinsey experts underline how, compared to forecasts, the business of the entire fashion industry was already in line with pre-pandemic sales by the end of 2021. With some ifs and buts: the invasion of Ukraine, the growth of inflation, the energy crisis, the impact of the Omicron variant heavily destabilizes the markets. The relaxation of restrictions and vaccination cycles are once again leading people to renew their wardrobe, but at the moment it is difficult to make objective predictions on how consumption patterns will develop. Fashion suppliers, brands and retailers must prepare for a series of challenges that require the ever-increasing use of technology.
Fashion Trends 2022: technological investments are growing
In 2021, fashion companies invested between 1.6 and 1.8% of their revenues in technology. By 2030, that figure is expected to rise to between 3.0 and 3.5 percent. Fashion brands are aware of how technology creates a competitive advantage in contacting customers, but also in support of production and distribution operations. Among the Fashion Trends 2022, automatic identification, robotics, advanced analytics and in-store applications not only help simplify processes and support sustainability, but help create exceptional customer engagement. From digital signage to interactive totems, from beacons to magic mirrors, from interactive display cases to pathfinders, from smart labels to apps, the amount of technologies that enrich the client's customer journey in the stores must be orchestrated by marketing with great foresight, to generate an experience without friction between the digital and physical dimensions.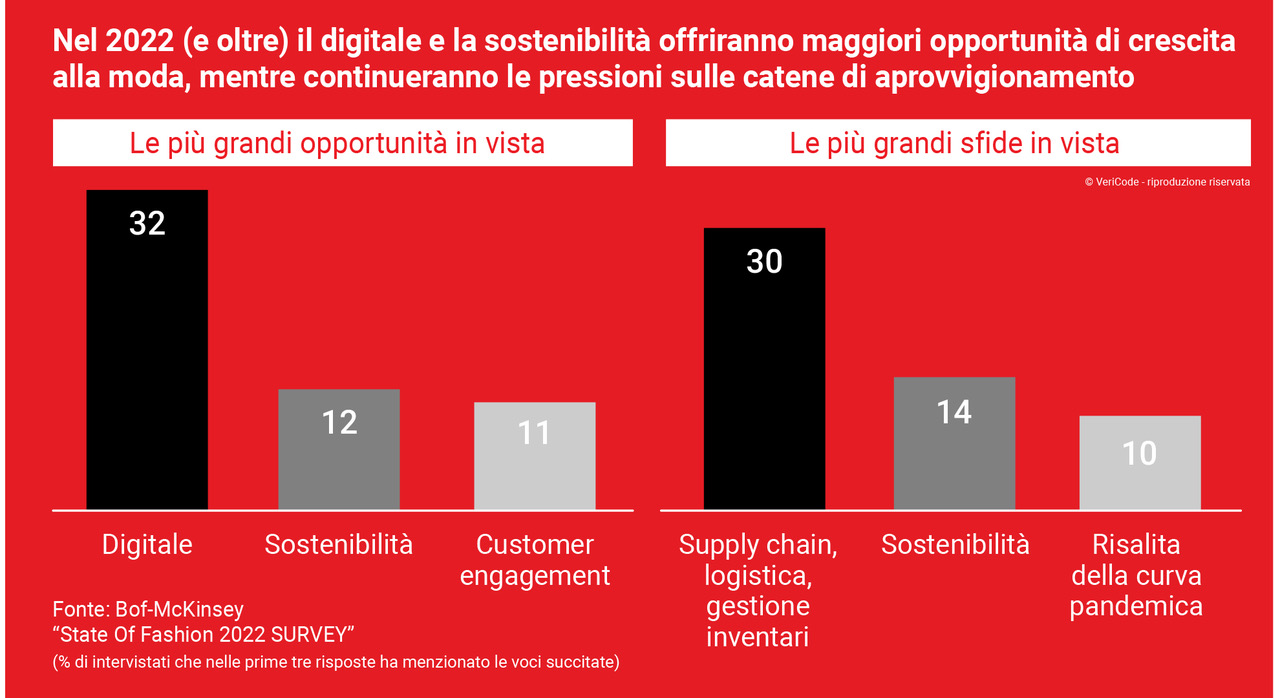 Below are the 2022 Fashion trends reported by analysts
# 1 More agile, integrated and resilient supply chains
The fashion industry depends on an intricate global supply network now under pressure for health, economic and political reasons. According to analysts, half of fashion executives (49%) consider interruptions in the supply chain among the causes that will have the greatest impact on their business in 2022. Beyond the volatility of demand and the repeated logistical stop & go, the scarcity of raw materials and semi-finished products and the increase in shipping costs require brands to rethink their procurement strategies. From digital prototyping systems based on 3D modeling, also used for virtual showrooms, to increasingly flexible production lines, with increasingly intelligent, connected and communicating product handling in order to enable transparent distribution and delivery systems also to end customers, fashion brands must deeply review organizational processes and models. From the back end to the front end, the traceability and trackability systems will also have to share information with the end consumers, who want to be sure that what they buy is authentic, with the same pre- and post-sales service guarantees as their in-store purchases. Also because the explosion of e-commerce is not a temporary factor. It is a further evolution of purchasing behavior that joins the existing ones. Which requires new logics of co-creation and collaboration of supply chains based on integration, standardization and synchronization.
# 2 Products equipped with a digital passport
With the aim of enhancing authentication solutions, increasing information transparency and demonstrating their sustainability, brands are using a portfolio of technologies to store and share product information with both consumers and partners. In 2022, about 2 out of 5 fashion executives expect the adoption of digital passports associated with their products.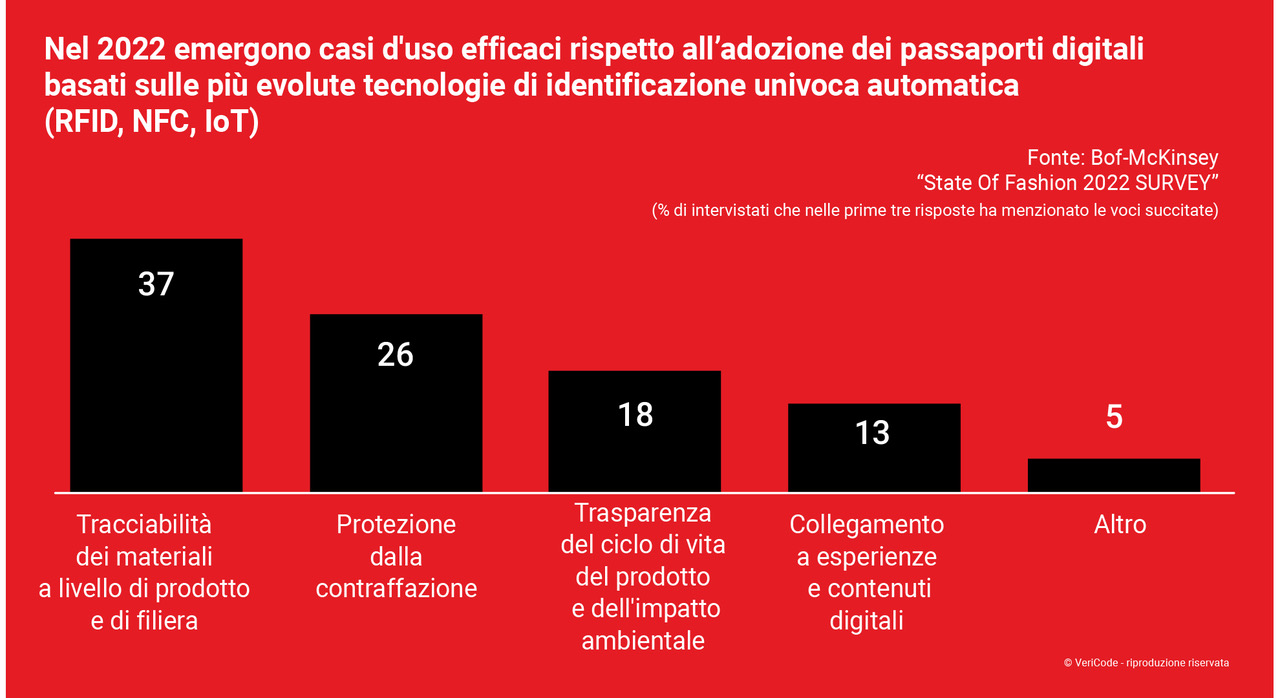 Crescono gli investimenti da parte degli operatori del fashion in tecnologie digitali che consentono di aggiungere sistemi di identificazione univoci che integrano molte informazioni digitali che arrivano a integrare anche la certificazione di autenticità di ogni singolo prodotto. Questo tipo di informazioni entrano a far parte di un corredo di dati prezioso che mette a sistema l'origine, la provenienza e le modalità di lavorazione dei prodotti della moda. Tag RFID, NFC e tutta la sensoristica associata alla IoT, includendo gli smart code di ultima generazione come, ad esempio, Vericode, aiutano i marchi a contrastare la contraffazione, differenziarsi e rafforzare la fiducia dei consumatori e ad aumentare i loro livelli di fidelizzazione, le aziende devono fondersi attorno a standard comuni e impegnarsi con progetti pilota su larga scala.
Find out what Vericode can do for you!
In fact, compared to traditional sewn labels, technological labels (smart labels) provide authenticated product records, including ownership history, data on the authenticity of the product and the provenance of the materials. When a customer purchases a product, they receive an encrypted certificate containing information about the manufacturing process. This way, not only can he check if he is purchasing an authentic product but he knows that he can contact assistance which immediately recognizes the products, guaranteeing all after-sales services such as, for example, repairs. In addition, product passports also support all the growing initiatives related to the circular economy, such as the resale and recycling of a garment, providing detailed data on materials, which facilitate the collection and sorting of garments for large-scale recycling. This is why among the Fashion Trends 2022, the smartest AutoID is confirmed as the tech trend in which brands will invest the most.
# 3 Solve and optimize reverse logistics
The rising wave of e-commerce requires fashion brands to intelligently solve reverse logistics as well. The products that are returned, in fact, go back as individual items, in unknown conditions, often far from the place where they were purchased or where the bulk of the inventory is located. Often the employees handling returned products do not have an understanding of the specific mitigation processes required for resale. Access to a digital passport that makes information more transparent even to reverse logistics operators can be accelerated through applications that offer product-specific workflows, guiding a warehouse or retail store employee through the tasks necessary to bring that item back to resale more quickly, through a secondary channel. This is not only important for profitability, but also a key component for building a sustainable and circular economy.
#4 Fashion data driven
Digital tools have increased the amount of information available to fashion brands. In the list of Fashion Trends 2022, we find in first place also the use of increasingly sophisticated analysis systems, fashion operators are transforming key parts of the fashion value chain. According to data from an IDC survey, 43% of retailers in the fashion sector are planning to implement the analysis and measurement of promotional performance in the next 12 months. 44% are currently implementing B2C visual search and order management as e-commerce applications. In general, the collaboration of the ecosystem and the optimization of last-mile deliveries are among the priorities for supply chain innovations, while retailers are aiming to improve the value of the brand, so that relationships with customers are strengthened. To date, these optimizations are often hidden within organizations, limiting the potential for cross-functional improvements, in a logic of greater integration and sharing in a supply chain logic. Brands should embark on an end-to-end value chain integration to create more efficient and profitable ways of doing business. Traceability systems based on traceability software and advanced big data management solutions will help fashion brands to go far in their supply chains to understand the entire life cycle of their products, especially if you want to pursue the theme of sustainability. Knowing where exactly products and materials come from is crucial, both to demonstrate their authenticity and to trace the individual links that make up the industrial flow. No one can say that a sweater is 100% organic cotton if it cannot trace the origins of that cotton. From this point of view, the fashion industry is still very fragmented and with poor visibility on the supply chain. The sector has not yet learned to fully exploit technological solutions from artificial intelligence to machine learning and IoT platforms, which would allow, where applied, to better govern global supply chains.
# 5 Hyper-personalization
For many fashion brands, designing a relevant customer experience will become a cornerstone of their digital businesses. Also because today their customers expect nothing less. The overwhelming majority of luxury consumers (89%) believe that a brand's attention to innovation and new technologies is a determining reason for purchasing an item (Source: "The State of Smoooth: Discovering Luxury in 2022 "- Camera Buyer Italia). Advances in the field of Artificial Intelligence and cross-channel engagement strategies guarantee companies a management of consumer behavior in real time that goes far beyond trivial transactions. Among Fashion Trends 2022 reported by analysts, the radar points to hyper-personalized engagement. Technology helps transform research-based ecommerce into an individualized discovery of products and styles. This can allow customers to regularly access websites and markets, well-kept o make this vision a reality, decision makers need to link and synchronize all the physical and digital touchpoints their customers use as they search for information, shop, release reviews, express their moods, contact customer care, click on a newsletter, scan a QR code and so on. The important thing is to bridge the gap between online and offline channels, offer branded experiences in a single continuity solution and learn to use technologies in a more holistic and integrated way, enabling a single control room to manage all types of customer interaction with magic mirrors, connected hangers, interactive holograms, market places, landing pages and so on. Clienteling in-store mobile apps, for example, offer an easy way for store employees to serve customers, while in-store mobile apps can help increase engagement, reduce customer pain points, and increase time spent browsing. More than 60% of fashion executives believe building integrated digital processes in their organizations will be one of their top 5 priorities between now and 2025. from landing pages to payments.