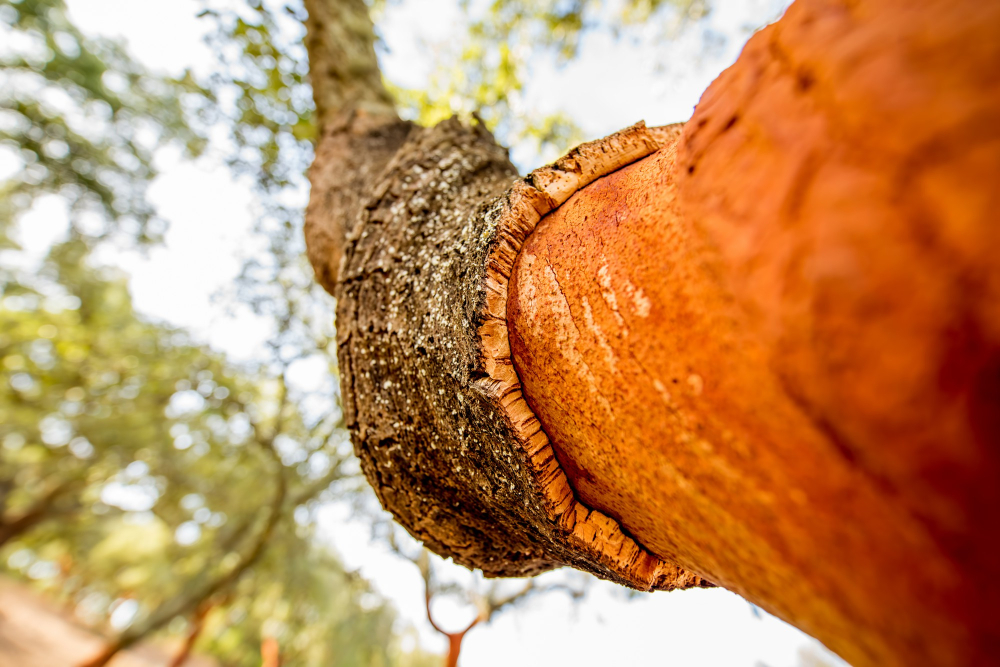 ---
Authenticity and sustainability guaranteed by Cork Guard, the most elegant and eco-friendly smart label
Authenticity and sustainability guaranteed by an innovative label that combines technology and ecology to protect brands and consumers, certifying the uniqueness of each product and the quality of each purchase. The solution is called Cork Guard and, in the fight against counterfeiting, it represents the ultimate frontier of a decidedly more intelligent and eco-friendly development.
An inimitable and 100% natural labeling system
For years, research has always been experimenting with new solutions to help the Food & Beverage, Fashion & Luxury, Electronics or Design markets to combat counterfeiting of their products. In this area, the growing attention to all sustainability-oriented issues is influencing development, favoring a more virtuous innovation. Analysts underline how 75% of consumers in the world, on all issues related to sustainability, ask brands to act actively, and 73% think that it is very important for companies to undertake ecologically responsible actions (Source: "Green ambitions, golden opportunities - Sustainability in times of instability" GFK 2023).
«Labels represent a strategic interface between company operations and the information needs of people who are choosing a product - explains Moreno Poli, CEO of Vericode -. In the field of technologies oriented towards unique identification, the evolution of visual recognition systems has led us to explore a unique identification system that is more innovative but, at the same time, natural. After various experiments we have found the ideal solution in cork, a very light, elastic and highly resilient material. In addition to being impermeable to air and liquids, cork has several peculiarities: it resists high loads, aging, rotting and is not attacked by rodents and insects. But there is another important characteristic: this raw material, by virtue of its unique and complex structure, allows the generation of unique, inimitable labels, making it extremely difficult for counterfeiters to create counterfeit products."
The vegetal imprint of cork as a biometric support
Cork Guard is the result of a process that is as simple as it is functional. Cork is obtained through a bark decortication technique, which does not compromise the tree's ability to regenerate. By sectioning the cork to obtain sheets that are cut into small squares, 100% natural serial matrices are obtained. The random texture of each square, in fact, turns out to be a truly unique vegetal imprint that cannot in any way be replicated. Each cork square, reinforced by a vegetable canvas support and applied to a paper label, is photographed and filed on our system. The image is associated with a QrCode and stored in a securitized and certified Vericode database.
Certification of authenticity within reach of your smartphone
The final paper label contains both the unique cork square and the Vericode QrCode. Using his smartphone, the consumer scans the QR code on the label and can immediately check with the naked eye the correspondence between the image of the cork square that he sees on his screen and the original on the paper label associated with the product he wants to purchase.
"Nature is extraordinary and prodigious – concludes Poli – and represents a constant source of inspiration for man. The combinatorial variable of cork textures is practically infinite, certifying a unique identification system that is not only effective and absolutely ecological but also elegant and aesthetically attractive. To tie paper labels we suggest using hemp rope, thus guaranteeing the full sustainability of an innovative label that protects brands and end consumers".
LuxePack 2023: Cork Guard in the business spotlight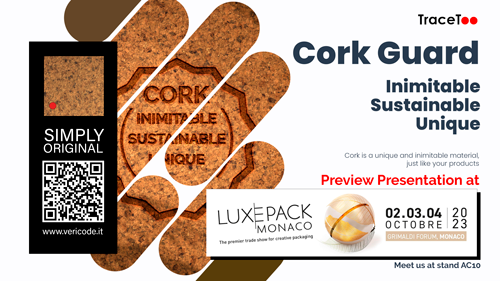 Cork Guard was among the most popular products of the 2023 edition of LuxePack, the multi-sector fair dedicated to the best innovations in the packaging sector. This year, in fact, the underlying theme of the event was focused on a distinctive design, centered on the ideation of digital concepts and sustainability. Cork Guard smart labels meet the needs of every sector: beauty operators, cosmetics, perfumes, skin care, fragrances, make-up, wines and spirits, fine food, fashion, watches, jewelry, furniture and so on..